The world's only Bachelor degree programs in Ifá/Òrìṣà knowledge.
We are a team of 26 Ìyánífa, Babaláwo, Babalórìṣà, Ìyálórìṣà, Educators, Medical Directors, Dentists and Nurses (with Bachelors, Masters, Doctoral and other professional qualifications).

Our Philosophy of Education
Ifá University views the Sacred Scriptures of Odù Ifá as the primary means to a successful life. In its entirety, the educational and practical experience of the University is designed to enable students to know and understand the Odù of Ifá, to apply its content and belief in the Òrìṣà to every aspect of life, and to minister it effectively to the world. The University is founded upon, and shall forever be dedicated to, the declaration and preservation of the Odù of Ifá, Òrìṣà Religion, and academic excellence. The University is an Òrìṣà institution with the distinctive focus on the application of the Scared Odù Ifá principle of Ìwàpẹ̀lẹ́ to life and living.
Ifá University is a direct extension of Òrìṣà Spiritual Assembly and thus, adopts all of its beliefs. In order to qualify for any position at Ifá University (i.e., Board member, faculty, administration, staff, volunteers, etc.), individuals must, whole-heartedly, acknowledge and live by the following core beliefs:
Odù Ifá: Òdù Ifá is the Sacred Scripture of Òrìṣà Religion—originally given by Ọ̀rùnmìla, divinely inspired, entirely trustworthy, and the only supreme authority in all matters of faith and conduct.
The Eternal Four: Olódùmarè, Ọbàtálá, Èṣù and Ifá eternally exist; they created all the other Òrìṣà, plants, humans, and all existing beings.
Ilé-Ifẹ̀: Ilé-Ifẹ̀ is the cradle of existence.
Ifá Dídá and Ẹbọ: Ifá Dídá and Ẹbọ are the sacred means of communication with the spirt world and ancestors.
Ancestors: Departed relatives who lived their lives based on Ìwapẹ̀lẹ́ (Good Character) are worthy of elevation and veneration as Egúngún.
The Òrìṣà: There are 400 primordial Òrìṣà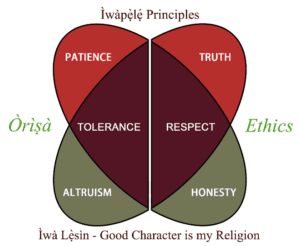 Consistent with our Vision, Mission, and Philosophy of Education, Ifá University is:
Committed to whole-person education—through a holistic approach to education that prepares students academically, spiritually, mentally, and socially.
Committed to declaration and preservation of Ifá and Òrìṣà Religion—through the direct study and application of the Odù Ifá and theological constructs and maintaining a Òrìṣà-centered community.
Committed to academic and institutional excellence—through regular self-assessment to ensure quality programs, and to maintain focus on the mission.
Committed to an Ifá/Òrìṣà foundation—through the teaching of sound doctrine, proper interpretation, and communication of the Sacred Odù Ifá Scriptures.
Committed to spiritual formation—by providing an environment which encourages spiritual practices, character development, and Òrìṣà living.
Committed to practical application—through the provision of opportunities to learn both traditional and non-traditional Òrìṣà constructs, and to apply them in and outside of the classroom.
Committed to develop students for ministry and servant-leadership—by providing a rich learning environment where Ifá/Òrìṣà reflection, theological discussion, and practical application results in local and global Òrìṣà influence.